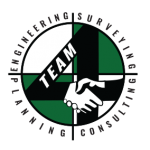 Website Team 4 Engineering
Team 4 Engineering is an employee owned civil engineering firm. Our company founders bring over 40 years of Kitsap County work experience to project designs.
Job Listing for: Land Surveyor in Training/Survey Drafter
Location: Poulsbo, WA
Salary: Depends on Experience
Employment Type: Full-Time
Team 4 Engineering is a consulting, land development engineering and surveying firm seeking a new team member with knowledge and or experience in survey principles of residential and commercial development. This is an excellent career opportunity for an enthusiastic and talented individual to join our team of outstanding professionals.
The ideal candidate should have the following skills and abilities:
Proficiency with planimetrics and surfaces.
Construction calculations.
The ability to independently draft a variety of mapping deliverables.
Be familiar with horizontal and vertical datums.
Knowledge of researching sources for control monumentation and property records.
Knowledge of evaluating construction plans for site and building improvements.
Understanding of and the ability to conduct control networks, topographic surveys, construction staking, level loops, monument recovery, and as-built surveys.
Qualifications:
Land Surveyor in Training (LSIT) desirable.
S. in land Surveying, or a related field desirable.
AutoCAD Civil 3D proficiency preferred.
Carlson Survey and Carlson SurvCE preferred
Kitsap County experience desirable.
Microsoft Office proficiency required.
Excellent written and verbal communication skills required.
Ability to work in a team environment required.
State issued Drivers License required with a clean driving record.
Benefits include:
Flex time hours
Two weeks paid vacation annually, three weeks after 5 years with the company.
Paid time off (non-vacation) from Christmas till the new year.
Competitive pay and Bonuses
Medical and Retirement.
To apply, mail a copy of your resume and a cover letter to:
Team 4 Engineering
5819 NE Minder Rd
Poulsbo, WA 98370
360-297-5560
or email to: Kevin@team4eng.com